Why Can't I Login to HubSpot?
1. HubSpot Login Methods: 
You can login to HubSpot in either of the following ways – 
Using traditional email and password to sign in

Sign in with Google

Single sign-on for Enterprise account
Note: If you have SSO turned on, you'll be automatically signed out of your HubSpot account after 24 hours of inactivity.
2. Forgot Password?
In case you're using the traditional email and password approach, and have forgotten your HubSpot login password, you can recover it by following the steps below:
Click

"Forgot my password"

on the login page. A password reset email will be sent to your registered email id.

Go to the password reset email received in your inbox and follow the instructions mentioned there to set a new password. 
3. Invalid Identity or Device?
HubSpot is a very secure platform and you might face difficulty with HubSpot login using just any random device. You need to ensure that the device you're using is safe by confirming your identity. You can do so by selecting "confirm your identity with email verification code" when prompted on your screen. 
Note: This identity verification code is different from the two-factor authentication confirmation code.
4. Troubleshooting HubSpot Login
If you're still unable to complete successful HubSpot login, try troubleshooting by following the steps below:
Check your browser support with HubSpot

Check the email address you're using for HubSpot login.

Verify if your account is active or deactivated.

Clear the cache and cookies in your browser and retry.

Check

status.hubspot.com

to see if there's any known login issue.

Check your network connectivity or try logging in from a different network.

Enable third-party cookies in your Chrome settings:

In the upper right of your Chrome browser, click the three vertical dots, then select Settings.

In the Privacy and Security section, click Cookies and other site data.

Ensure that Allow all cookies are selected.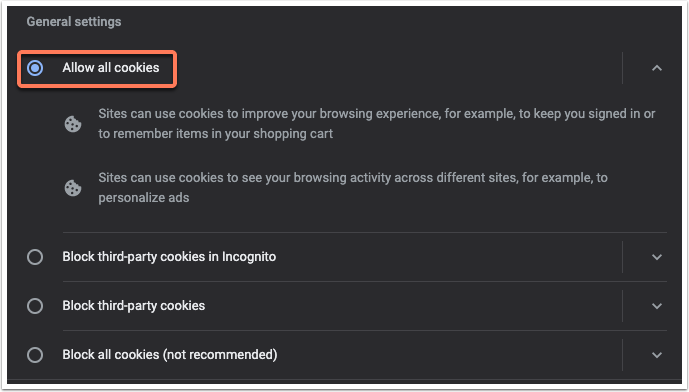 Try to log in to HubSpot again. If you're unable to log in after following the steps above, submit your information to the HubSpot support team through the form below.
Note: You can only log in to HubSpot if you're a HubSpot customer, a trial user, or a free user. This access is not for email or resource subscribers.