What are HubSpot Theme Modules and Templates?
HubSpot theme is a set of templates and modules that are used to create your website. These are downloaded from the HubSpot asset marketplace. However, you will always have access to default HubSpot themes. You may simply edit different pages by the drag and drop method of the HubSpot theme modules. 
Read more about  HubSpot CMS Themes
Theme Modules 
HubSpot theme modules are separate sets of components that add particular functionality to your website page. Every theme has a set of theme modules that you can use depending on your needs. We have added suitable theme modules to all our HubSpot themes.

They are interchangeable and self-contained objects that add functionality to your page. They concentrate on a specific aspect and, when correctly combined, produce wonders for your UI/UX. You will be able to drag and drop these wherever you wish.
 Some examples of HubSpot theme modules are, banner home, brand slider, call to action, accordion, spacer, team gallery, etc. Read more on How To Create Custom Objects In HubSpot.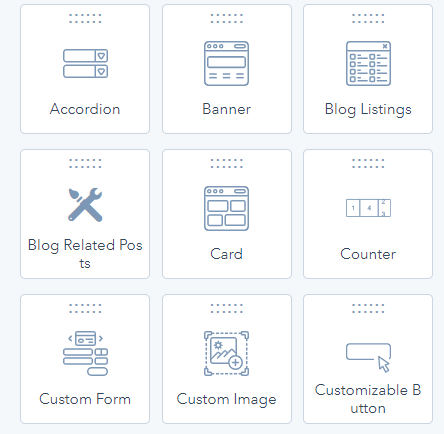 Theme Template 
HubSpot theme templates are pre-defined stencils of different pages of your website. The templates have a defined layout that best suits your web pages. You can simply select the page template and edit the content and images according to your requirements. You can use these to replace your services and content on your website, or you can start from scratch.
For example, homepage, landing page, about us page, donation page, etc. All our HubSpot themes have the best-designed website templates.  Read more about Easiest Ways To Customize HubSpot Templates.