How to Create HubSpot Forms?
HubSpot forms collect critical information from your customers, visitors, and contacts that can be further used to draw sensitive analysis for future processes. You can create HubSpot forms and embed them into your website pages, easily. 
1. How to Create a HubSpot Form?
To create a form in HubSpot, follow the steps below:
Log in to your HubSpot CRM Account

Go to

Marketing > Lead Capture > Forms

.

Click

Create form

.
1.1. Associate HubSpot Form with Business Unit
With HubSpot forms, you can associate the created forms with specific business units as well only if you have Business Units Addon already integrated into your HubSpot CRM. Follow the steps below to add the form to Business Unit – 
Click on the dropdown menu against

Select a business unit

.

Select all the business units you want to associate your form with.

Select the

form type

and click

Next

.

Select the

form template

from the left panel – 

Blank template for new forms

Pre-made template for the existing form with pre-selected specific use case fields.

Preview the form

with a selected template in the right panel.

Click on the

Start

button.

To edit the

form name

, click the

edit

icon and update the existing name with the required form name.

2. How to Add & Edit the Form Fields in HubSpot Forms?
To add new form fields or edit the existing HubSpot form fields, follow these steps – 
Search or browse through the property groups to find an existing form field.

Select the relevant object type of the field to determine whether the form actions appear on the activity timeline of the associated records or not. 

Create a new property to be used as the form field:

Click

Create a new tab

.

Select

Form field type

.

Set up your form field from the right panel options:

Select and add

Object type

.

Select

Property group

.

Add

property name

.

Add

property description

text.

Click

Next

.

Click on the

Create

button.

Drag and drop the form fields onto the form preview and locate your HubSpot form fields, for example, First Name, Last Name,

Upload file through HubSpot form

, Street Address, etc. as you like.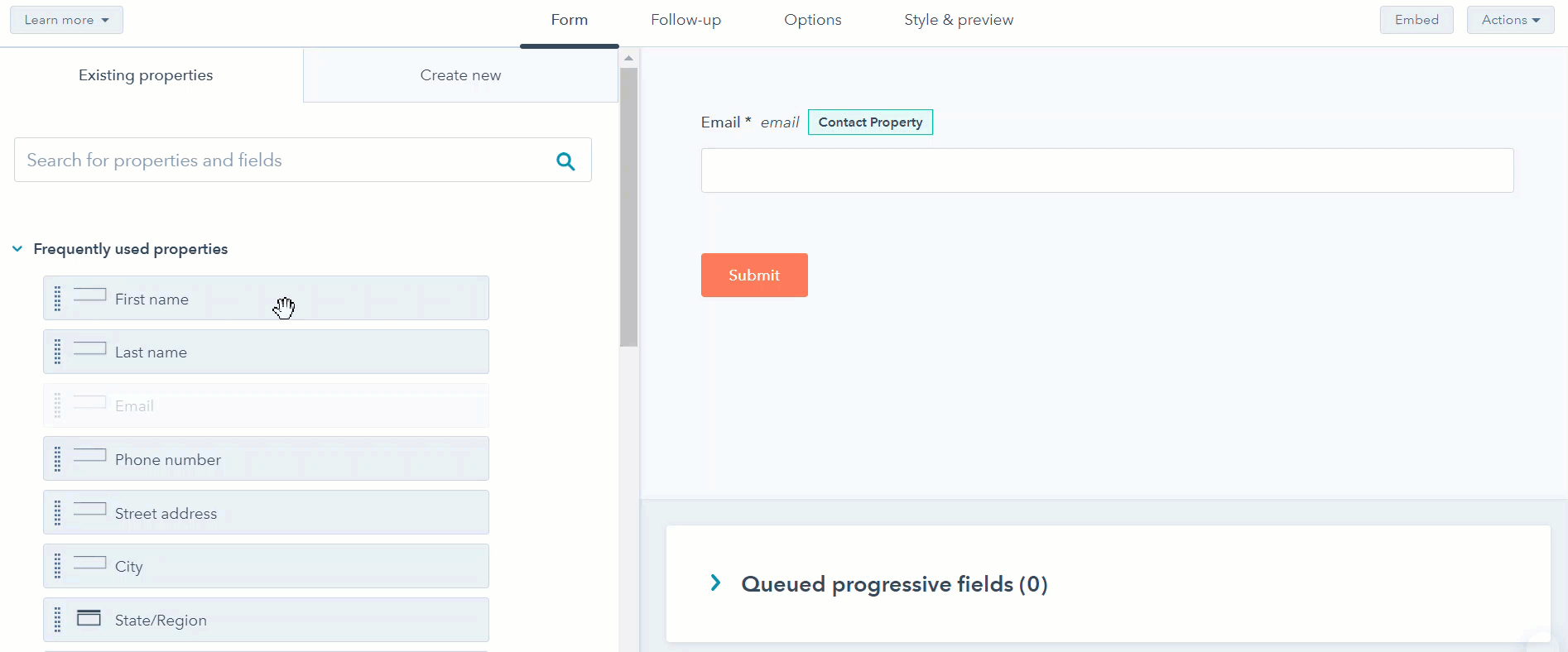 Note: HubSpot verifies whether each email address shared is valid or not upon form submission. Therefore, the Email field is required in HubSpot form, by default.
3. How to Customize your HubSpot Form Options?
With HubSpot forms, you also have options to customize your forms with additional functionalities like sending notifications, taking follow-ups, etc. Here are the steps you must follow to customize your form options – 
Go to the

Options

tab.

Customize the options as required: 

What should happen after a visitor submits this form:

choose to display a thank you message to your visitors or redirect them to another page after they submit the form.

Follow-up options:

select the Send submission email notifications to the contact's owner checkbox to automatically send a notification to the contact's owner.

Send submission email notifications to:

click the dropdown menu to select the default teams or individuals to send submission email notifications to, regardless of contact ownership. Recipients set here will be overwritten by recipients set in the form options on HubSpot pages.

Campaign:

to associate the form with a campaign in HubSpot, click the Campaign dropdown menu and select a campaign. To create a new campaign instead, select Create campaign. Learn more about working with campaigns in HubSpot.

Form and error message language:

select the language for default field labels and errors displayed to visitors who don't fill out the form correctly.

Always create a contact for a new email address:

select this option to create a new contact record for every submission with a unique email address. If the email address submitted matches an existing contact record in your database, the details on the existing record will be updated.

Add a link to reset the form:

select this option to allow visitors to remove any pre-populated fields on the form and to create a new contact on submission. When enabled, visitors can click a Not you? Click here to reset the link that resets the form. This will also disable cookie tracking in the form submission, preventing any cookie overwrites. 

Pre-populate fields with known values:

if a contact previously visited your site and submitted a form, and HubSpot was able to store and track their cookies, any known field values can be pre-populated on the form. This option is enabled by default. To disable this option, click to toggle the Pre-populate fields with known values switch off. Learn more about pre-populated form fields. 
4. Style & Preview your HubSpot Forms 
At the top, click the

Style & Preview

tab. A preview of the form will update in the right panel as you adjust the form's styles or test its features.

Set as raw HTML form:

select this option to render the form as a raw HTML element rather than inside an iframe. Any HubSpot styling will be removed, and the form can be styled with CSS in your external stylesheet (Marketing Hub Professional or Enterprise, CMS Hub Professional or Enterprise, or Legacy Marketing Hub Basic only).

Input options:

select one of four available themes for field and button styles.

Style:

customize the form's width, fonts, and colors.

Test:

if you have

progressive fields

or dependent fields on this form, you can test how they'll appear to your visitors.
5. Finally! Publish your HubSpot Form Now.
Once you're done with all the changes and customizations, you can click on the Publish button in the top-right corner to make your form live. After the form is published, you can use it on HubSpot pages, external websites, and/or standalone pages via its embed code.
Also, please note that once the HubSpot form is published on LIVE, it cannot be unpublished.
Read More: How to create a HubSpot payment form?