How to configure automated workflows in HubSpot for WooCommerce?
(*HubSpot Professional plan or Above required)
Setting-up eCommerce Workflows
Go to the plugin dashboard, click on Workflow settings. You get the following ready-to-use workflows for your WooCommerce store.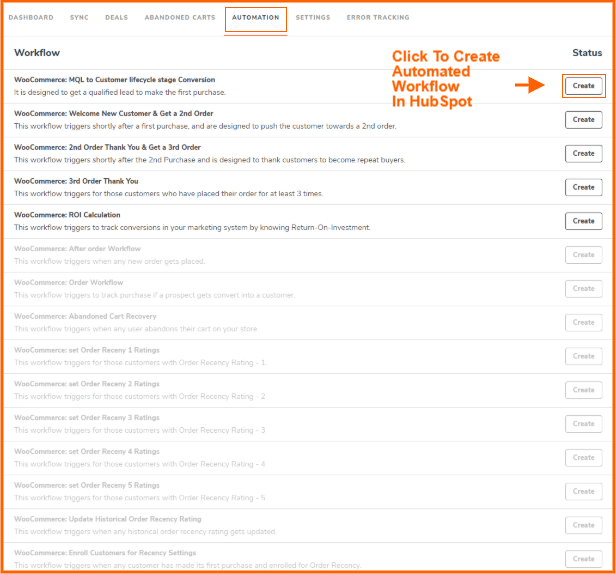 1. WooCommerce: MQL to Customer lifecycle stage Conversion
It is designed to get a qualified lead to make the first purchase.
2. WooCommerce: Welcome New Customer & Get the 2nd Order
This workflow triggers shortly after first purchase and pushes the customer towards a 2nd order.
3. WooCommerce: 2nd Order Thank You & Get the 3rd Order
This workflow triggers shortly after the 2nd Purchase and thanks customers to become repeat buyers.
4. WooCommerce: 3rd Order Thank You
This workflow triggers for those customers who have placed their order for at least 3 times.
5. WooCommerce: ROI Calculation
This workflow triggers to track conversions in your marketing system by knowing Return-On-Investment.