How one should set up Smart Lists in HubSpot for WooCommerce ?
Smart lists help you segment your contacts or companies automatically according to their behavior and activities.

Create Smart List in HubSpot
Usually, the plugin automatically creates a few smart lists in HubSpot during the initial plugin setup. But this HubSpot WooCommerce integration packs more HubSpot lists you can create after setting up the plugin. Here are the steps to create them.
– Open the HubSpot WooCommerce integration in your WordPress dashboard.
– Click on the Settings tab in the menu bar and then in the Lists section, click Manage.
– You'll see multiple lists over there with a Create button in front of each.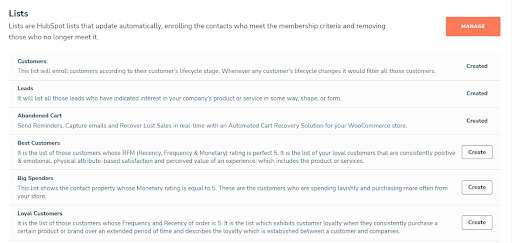 – Whatever list you want to create, click on the Create button and the list will start reflecting in your HubSpot account.