How To Set Up Smart Content In HubSpot?
Using dynamic content HubSpot allows displaying smart content modules based on viewer categories. The HubSpot smart content can effectively display multiple versions of content. Additionally, you can even personalize emails with smart content by creating alternatives.
HubSpot smart content examples: you can set up a different CTA or smart text for visitors from a specific country or those viewing on a mobile device.
Smart Content Rules 
To set up smart content, HubSpot has laid down the following categories:
| | | |
| --- | --- | --- |
| | Smart Content Categories  | Rule |
| 1. | Ad Source | Show viewers content based on the ad they clicked. The UTM parameters in the page URL determine the ad source. |
| 2. | Country | Show different smart content to viewers based on the country they see it from. Their IP address determines their country.  |
| 3. | Device Type | Visitors who access your site via mobile, tablet, or desktop should be targeted. The smart content tools analyze your visitor's browser's user agent to determine their device type. The device type smart content rule cannot guarantee accurate segmentation because a user can manually change the device type on the current device. |
| 4. | Referral Code | Smart content based on how the viewers found your website.  |
| 5. | Preferred Language  | Based on the language set on the viewer's website browser. |
| 6. | Contact List Membership  | Members of a specific HubSpot list viewing your website will see different content. |
| 7. | Lifecycle Stage | shows different content based on the Lifecycle stage property value of a visitor. |
| 8. | Query Parameter | Show content based on the query parameters in the visitor's page URL. The query parameter rule is determined by the parameter's name and the query string value. For example, if you want to set a rule for users who have 'HubSpot' in their URL, your rule would be utm content that Contains HubSpot. |
Manage HubSpot Smart Content
You can add smart content to your blog posts, emails, and any website or landing page. Therefore, you need to first decide where you want to use smart content in HubSpot. Decide where you want to use the dynamic content > Choose the exact module from the email template, website, or landing page. For instance, if you want to add smart content to our landing page:
Go to

marketing >landing pages

> select any landing page > edit 

From the edit page menu on the left side, under

contents,

select a

module

you want to display smartly. Alternatively, you can directly click the

pencil icon

when you hover over any theme module and go to the next step.

The particular module settings will open. The first option will be that of

smart content.

In our example, we will edit the

title content module and create smart content for the same.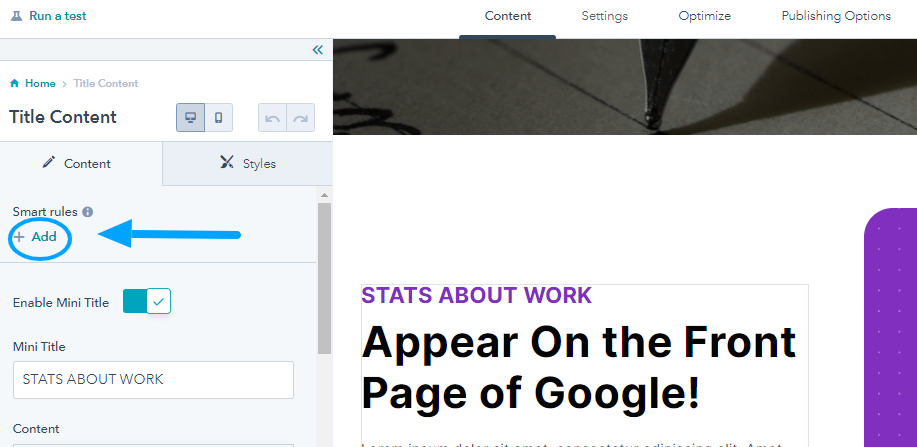 Click

add >

a

manage smart rule window will open

on your right-hand side.

Select a category of HubSpot smart rule to show dynamic content on the title. Here we choose

device type.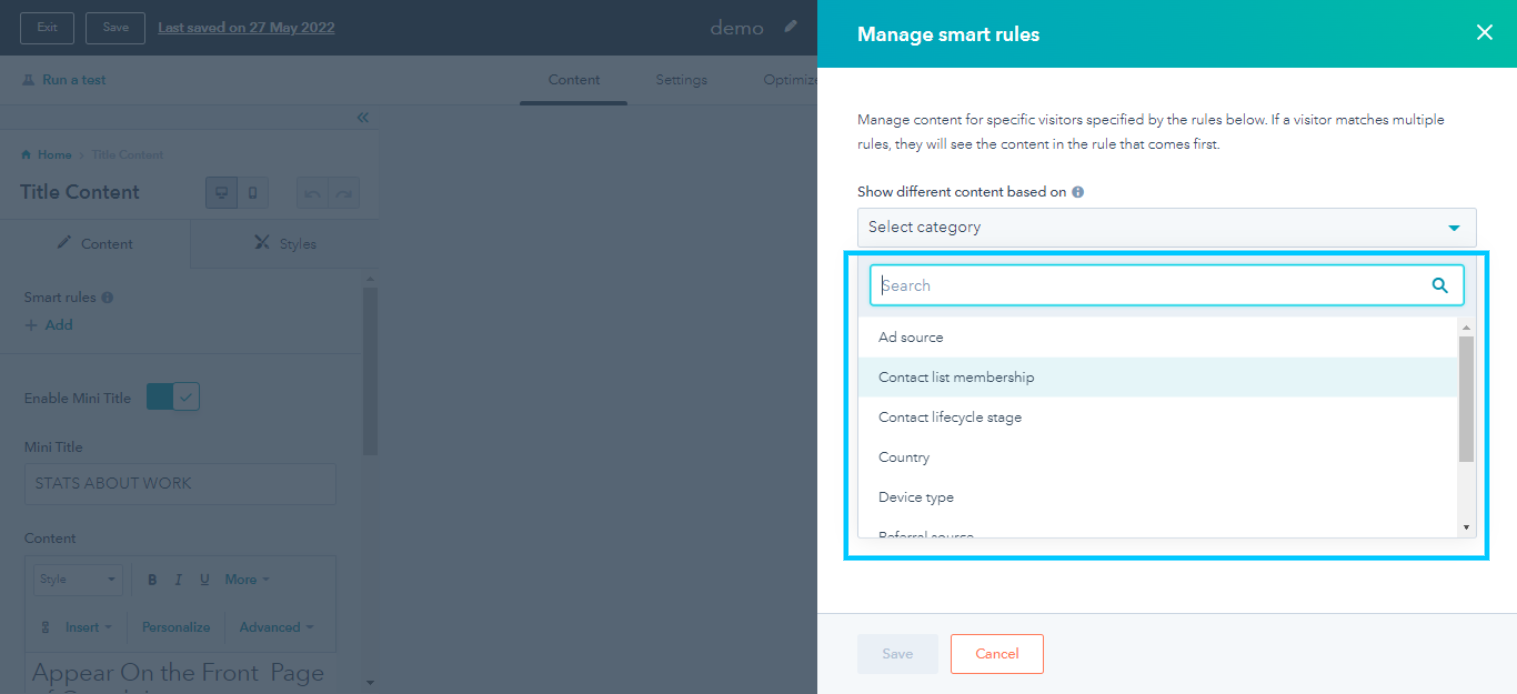 When you choose a category, you will be able to add rules for different cases. Under the device type, you can add up to

different variations of smart content based on device type, i.e Mobile, Desktop, and Tablet.

Click

add and select device type.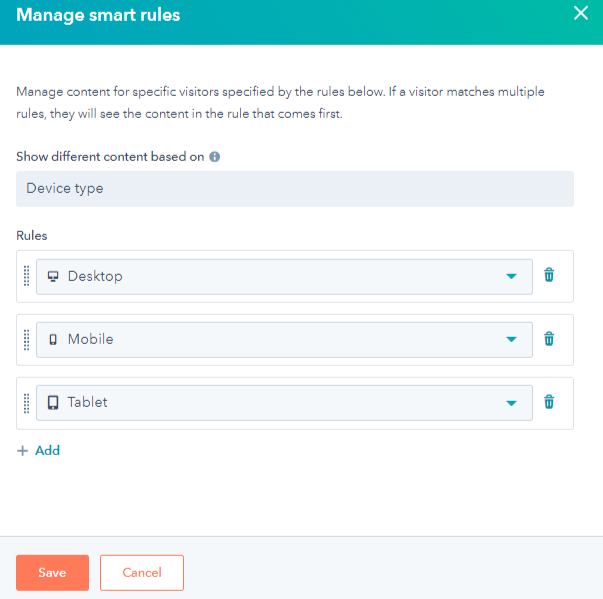 Click

Save

after adding your smart rules. Now on the sidebar on your left, you will have an option to edit smart content for the number of rules you have created. You can edit each category.
From the

editing for dropdown,

select the device type and enter texts that you want to alternate. Repeat until you have done it for all device types.

To edit or add more

smart rules,

click

manage

. A single smart module can have an

unlimited number of smart rules. 
Preview Your Smart Rule
For smart content marketing, ( using smart content in HubSpot) this is an ideal way to segment your target audience. But before that, preview your edited module. After saving changes > Click Preview. When you choose a smart variation, the page editor shows the version of the page that those visitors will see. All smart modules that follow the same rule will show content from that smart variation.