How you should Setup Two-factor Authentication to Secure HubSpot Login?
HubSpot is always determined to provide you with a secure environment to work and build your business. Similarly, logging into HubSpot also needs a secure and authenticated environment. 
By default, HubSpot login requires only a username and password. Enabling two-factor authentication allows you to add another verification step to complete the login process.
Enabling two-factor authentication or 2FA, you can verify your identity using a secondary device like a mobile phone. 2FA verification can be done through an authenticator app or an SMS text message. Using third-party authenticators like Google authenticator, Microsoft authenticator, duo, etc. are also available options. 
1. How to Turn on Two-factor Authentication for your HubSpot Login?
To set up 2FA verification in HubSpot, follow the steps guided below.
Click the

Settings icon in the main navigation bar of your HubSpot account.

Click

Security

. 

In the

Two-factor authentication

section, click

Set up two-factor authentication (2FA)

.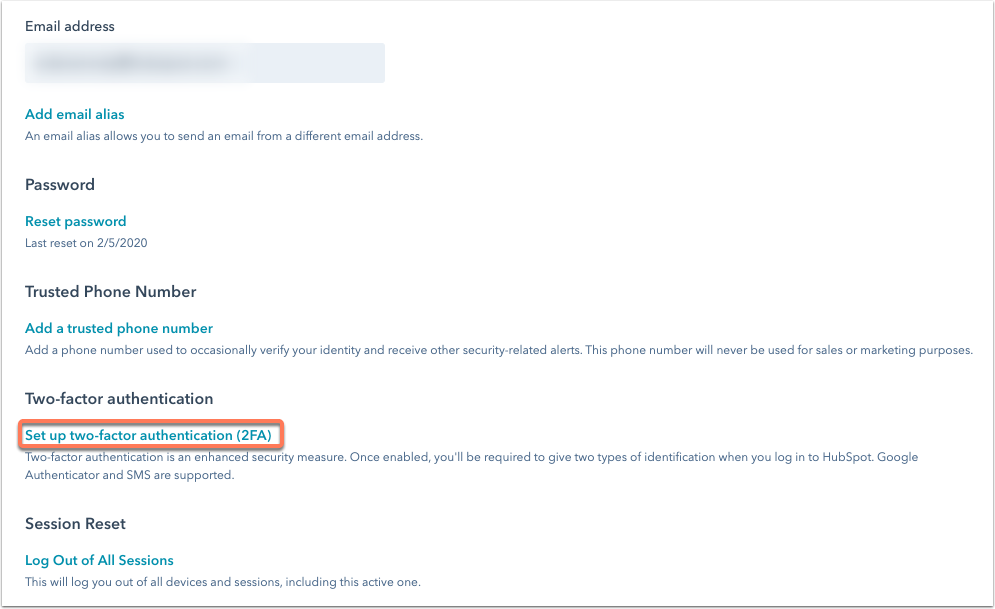 If using a third-party authenticator or text message code to login, select the corresponding option and follow the aforementioned instructions else if you're using an iOS device for 2FA authentication, select

HubSpot mobile app

:

To install the app, scan the QR code to download the latest version app.

On your device, you'll finish setting up 2FA:

You'll be prompted with a notification to continue 2FA setup. Tap the notification to proceed.

Tap

Continue

.

Tap

Confirm

.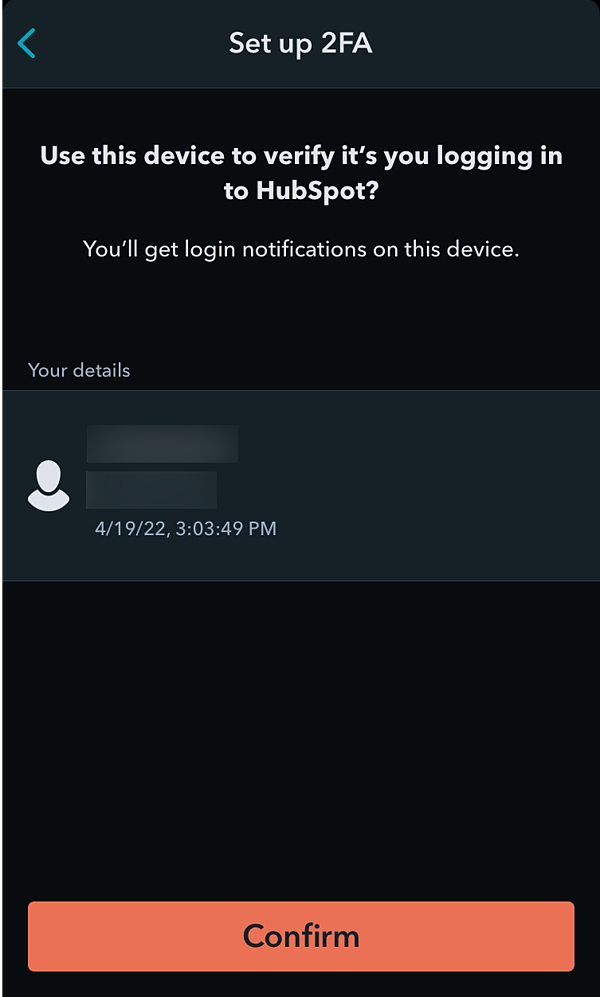 Back in HubSpot, click

Next

.

Update your 2FA verification frequency preferences:

Click

Remember me

to avoid being asked for 2FA authentication for a short period of time.

Click

Ask for 2FA

every time to force 2FA confirmation on your device every time you log in.
As a last step of the HubSpot login 2FA setup process, you'll be provided with 10 backup verification codes. These codes can be used in case you lose your 2FA device. Save your codes by clicking

Print

or

Download (PDF)

.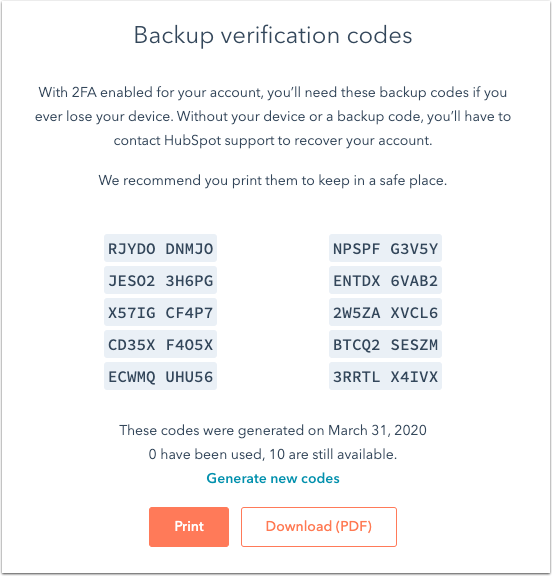 2. How to Setup a Secondary Method for 2FA HubSpot Login?
Click

Set-up secondary method

.

Click

Next

.

Open the

Google Authenticator

app on your device and scan the

QR code

.

You will receive a

6-digit verification code

on your mobile.

Click

next

.

Enter the

6-digit verification code

that you received.

Click

Next

.

Click

Done

.
3. Require Two-factor Authentication for All Users
Click the

Settings icon in the main navigation bar in your HubSpot account.

Go to

Account Defaults

in the left sidebar menu.

Go to the

General tab > Security section

, click the toggle

Require Two-Factor Authentication (2FA)

switch on.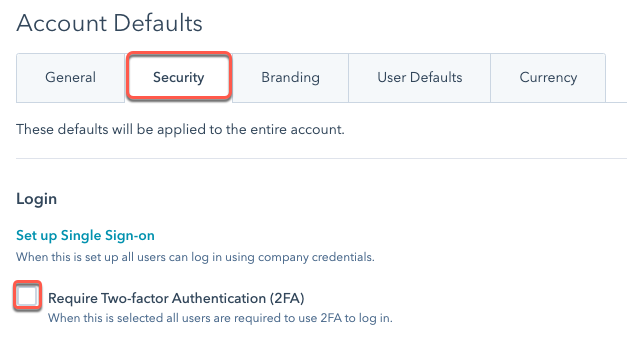 In the dialog box, click

Yes

.